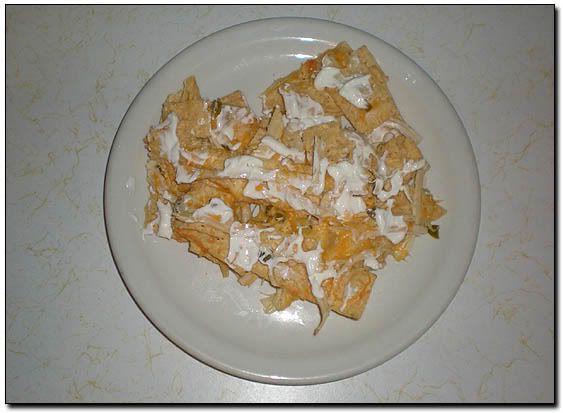 I'll be the first to admit, this does not look as good as it sounds. When most of your ingredients are the same color, you tend to lose the vividness that makes food look even better. Plus it doesn't help that this is covered in a thick white, possibly unappealing substance.

Yet another night of Thanksgiving leftovers, however, it's just down to the turkey now. No more of the other tasty treats you get but once a year.


5oz taco chips
1 cup cheddar/jack cheese
5-7 jalapeno rounds, diced

shredded turkey
sour cream, optional
This one's pretty simple. Preheat the oven to 350 degrees. Lay out the taco chips so that most of them are side by side, not overlapping. Spread the shredded turkey, or meat of choice, across the top so it's pretty evenly dispersed. Add the jalapenos and any other topping you might want; beans, onions, garlic, etc. Cover in cheese.
Once oven is heated, place the baking sheet inside until the cheese is melted. Remove from oven and serve with sour cream, guacamole, refried beans, your choice!
The grand total for this lovely little dinner is
$1.39
. This made enough for two people to eat until full with no leftovers (thank goodness).
taco chips 30¢
cheese 89¢
jalapenos 10¢
turkey has no cash value

sour cream 10¢