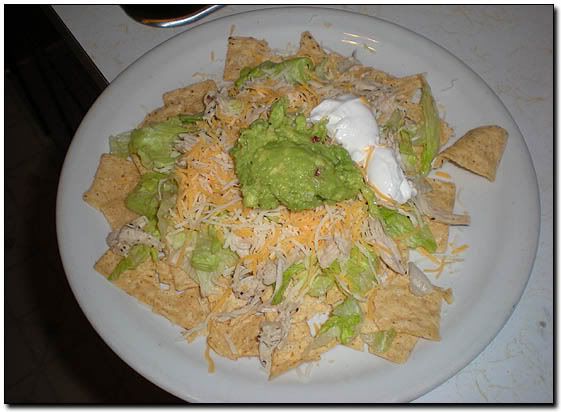 In the same vein of the Tex-Mex craving I had the other night for the chicken tostadas, tonight's was based on the simple fact that we just got internet in our new apartment and we were planning on playing World of Warcraft all night and wanted easy and cheap.
4 chicken tenders

1/3 head of Iceberg lettuce

2 avocados

guacamole mix

taco chips

Cheddar/Jack cheese

Tillamook fat free sour cream

pepper

salt

garlic

cayenne pepper
Place chicken in a pot of water with pepper, salt, and garlic. Let boil at high heat until it's thoroughly cooked. Add cayenne pepper and allow the water to boil down. Shred the chicken into smaller pieces.

Slice the lettuce however you prefer. I use thin strips. They tend to be easier to pick up with a fork since they can't really be... forked.

Cut up the avocados and mash until smooth. Add a pinch of salt and the guacamole mix. The guacamole mix is a new addition, something different to try. We normally just salt the avocado and call it good. While we liked the mix, we both agreed it's best used for a dip as opposed to a topping.

Taco chips, lettuce, chicken, cheese, guac, and sour cream. Tasty, filling, and moderately healthy.

The grand total for this meal for two which had a little chicken left over for a lunchtime nacho was

$5.84

.


avocados 2.32$

guacamole mix 79

¢

4 chicken tenders 1.16$

cheese 56

¢

taco chips 36

¢

sour cream 15

¢

lettuce 50

¢