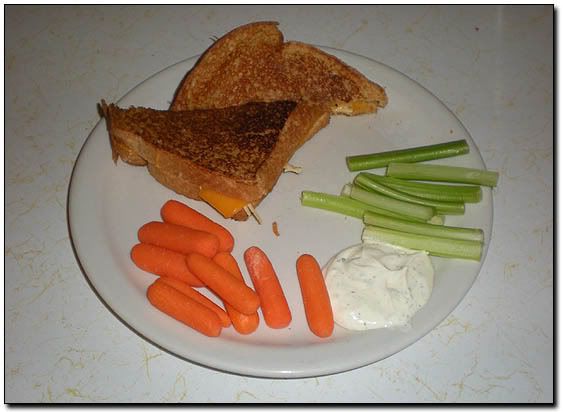 I love a good grilled cheese sandwich. I'm a sucker for Kraft American cheese, however, so some may argue "that's not good" but it's home. It's a creamy cheesy sandwich that hits the spot. And now we're facing yet another day of leftover turkey. It's tough trying to be creative. But this went in a very simple, yummy way. Grilled cheese and a bit of turkey with some tasty leftover veggies from the mini platter I threw together.
2 slices of bread
cheese of choice
spreadable butter (not melted butter)
turkey
carrots, optional

celery, optional

dip, optional
Spread the butter on the outside portions of the bread. It doesn't need to be saturated in butter, but spread enough that most of it is covered lightly. Only do this on one side of each piece of bread. Flip one buttered side down on a plate (or the spatula) and add the cheese. I use a mix of the shredded Kirkland Cheddar/Jack and chunks of sharp cheddar and spread it out evenly on the bread. Add small chunks of shredded turkey. There shouldn't be too much, as the thicker the sandwich is, the less likely it will stay together. Place the other piece of buttered bread butter side up.
Heat the skillet on medium-high, about 6 or 7. Wait a few minutes before placing the sandwich in the pan. You want the butter to sizzle the moment they touch surfaces. Lower the sandwich carefully into the skillet, careful not to spill its contents. Let sit to cook for about 2-3 minutes, checking it occasionally to make sure the bread is browning, not burning. Flip the sandwich with the spatula slowly -- contents may shift because it won't be completely melted yet, especially if shredded cheese is being used. In the event shredded
is
being used, if you have to, pull the skillet from the burner with your offhand, pick up the sandwich with the spatula with your dominant hand, turn the skillet sideways, and gently flip the sandwich into the skillet. Less mess this way. Let the other side start to brown and flip it back and forth until it's the desired color. Daren likes his burnt so his sandwich stays down a little longer.
Serve with veggies. I always find a ranch type dip and carrots compliments grilled cheese sandwiches very nicely.
The grand total of this childhood memory meal is
$1.37
. This made three sandwiches and one serving of veggies.
bread 30¢
cheeses 57¢
veggies 50¢
turkey had no cash value