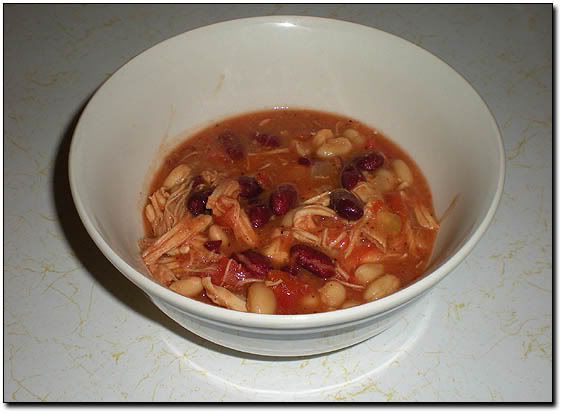 Ah, turkey. How versatile you are.

This was the last night for turkey leftovers. I told Daren we had to get rid of what was left after today because it's going on a week old now and a fridge cannot preserve things for
that
long. I'd hate for either of us to get sick due to old foodstuffs. Plus, I don't think I can handle anymore turkey. I long for beef or chicken, maybe even some pork. Perhaps some shrimp. Regardless, turkey chili. Hot, spicy, filling. Great for those cold late Fall and mid Winter nights.


1 can Great Northern Beans
1 can Dark Kidney Beans
1 can Diced Tomatoes
shredded turkey
1/4 yellow onion, diced
1/2 Tablespoon chipotle sauce, optional
squirt of spicy brown mustard
garlic
pepper
cayenne
In the vein of Daren's type of cooking, throw everything into the pot. No need for layers or specific orders. Everything in. We started cooking this much earlier than the projected dinner time, so he put the heat on 3 and let it stew with the lid on for about an hour and a half, occasionally stirring it. He then turned it up to 7 and removed the lid. This way, what extra soupyness is there will evaporate out and become a thicker base. If you plan on cooking it in a timely manner (i.e. within an hour time frame), have it on a high heat with the lid on for a short while until it's really bubbling, then lower the heat and let it cook without the lid.
I enjoyed this meal with some crackers, but it's not a must.
The grand total for this meal with enough for small second and third servings is
$2.41
. There were barely any leftovers and that went to the wayside because it was minimal.
beans 1.33$
tomatoes 1.00$
turkey has no cash value
onions 8¢