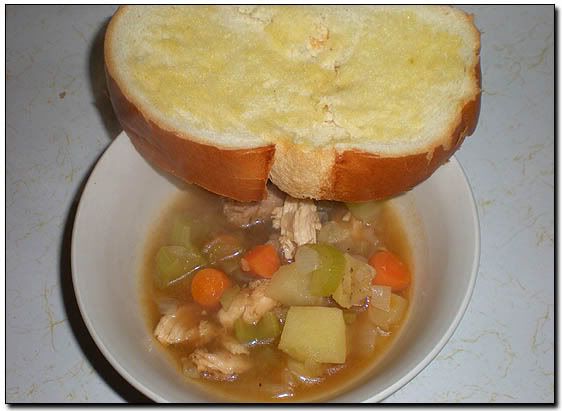 We were going to have soup last night, but Daren came down with a weird stomach thing, making us forgo his tasty concoctions for a Costco just-add-lettuce Asian salad kit. Which, by the way, is amazing. $10.65 for two night's meals. Can't go wrong, really. But because we postponed Daren's soup, we got to have it tonight. And it came out mighty tasty.
4 celery stalks, 1 inch pieces

2 carrots, ½ inch pieces

1 Yukon gold potato, ½ inch chunks

1 yellow onion, diced

1 12oz Henry Weinhard dark lager


3 beer bottles full of water (that's 36oz)

1 Tarantino brand Italian sausage, casing removed

1 can Swanson's chicken broth, 33% less sodium

5 medium sized chicken breasts

1 loaf Italian bread

garlic

smoked paprika

black pepper

sage

salt
Basically, Daren just cut everything up into Daren-sized pieces (slightly bigger than necessary) and threw it all into the pot. He held off on the salt because he wasn't sure if the Italian sausage would flavor it enough. In the end, it did need some salt, but be sure to use it sparingly. He also said he would add some basil and a dash of cayenne pepper for a nice kick.
The Italian loaf came to us as a cold, albeit soft piece of bread. I only used half of it, sliced it into dipping-size portions, buttered one side, and threw it in the oven at 350 for about 7 minutes. They came out crunchy at the edges and moist and crispy in the middle.
Dinner tonight, which also provided two 4-cup Tupperware containers of leftovers, cost a grand total of

$5.67

.
celery 44¢

carrot 27¢

potato 71¢

onion 32¢

beer 92¢

½ loaf bread 50¢

sausage 54¢

chicken broth 53¢

chicken breast 1.44$