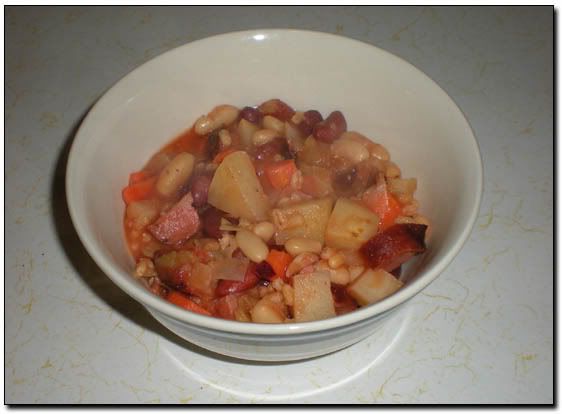 When I lived in Hawaii, one of my favorite restaurants had a fantastic soup and salad bar for cheap and the soup always on "tap" was Portuguese Bean. Essentially, it's meat and veggies in a delectable tomato broth. The potatoes were always tender, the carrots soaked up all the flavors, and the sausage used was spicy and artery-clogging. My mom tried to copy the recipe and to this day, she's made this soup and it's just the same.


14.5oz. Hunt's whole (or diced) tomatoes

1/8 head cabbage, shredded
1/4 yellow onion, diced
2 large carrots, peeled and diced
2 Russet potatoes, peeled and diced
3 14.5oz cans of beans; see below
1 cup pearlized barley
1 package sausage; see below
14.5oz. water
salt
pepper
blender
soup pot
soup pot lid

Beans
As far as the beans go, I use 4 different types for the original recipe: dark and light kidney, navy beans, and some form of other white bean. I used to use lima until I found out that stores around here do not sell canned lima beans, only frozen. Which would work if you really want them. For this recipe, you will only be using 3. Do not drain the juices as they will be used in the soup.
Sausage
My mom's original recipe calls for one pack of Portuguese sausage, as well as another pack of Hillshire Farms (or other brand) polish sausage. Portuguese sausage can be difficult to find and is expensive, so I tend to use any cheap brand of turkey sausage. It's just as tasty and is heart-healthy(er).
Note

The recipe I use makes a giant pot and smaller sauce pot of soup. I've doctored
the ingredients to make it a smaller portion, since not everyone has the room for all the extra.
Cook the sausage first according to the instructions on the package. I use the oven as opposed to the frying pan method due to it being easier and not needing to be constantly watched. When the sausage is completely cooked, remove from the oven and let cool. Once cooled, chop into small, bite-sized pieces. Set aside.
In the blender, add the whole or diced tomatoes (it doesn't matter which type you buy) and blend on medium until it's completely smooth with no tomato chunks. Transfer the tomatoes to the soup pot. Add the 14.5 ounces of water (the same size as your can of tomatoes), salt, and pepper to taste. Turn the stove to high, around 8, and let boil for about 10 minutes.
You can use the time while it's boiling to chop up the vegetables or they can be prepared beforehand. Beforehand is better just so things are ready to go.
After 10 minutes, add the pearlized barley, potatoes, and carrots. Turn down to about medium heat, 5 or 6. Cook for another 10 minutes, stirring occasionally so the barley doesn't burn to the bottom. If you notice they're sticking a lot, stir more often. After that 10 minutes, add the beans and their juices. Cook for another 10 minutes, stirring often again. After another 10 minutes, add the cabbage, onions, and already-cooked sausage. Cook this for another 10 minutes, still stirring. Throughout the cooking process, taste test the broth. If it's too tomato-tasting, add a little more water. If you find the broth is too bland tasting, adding more salt and pepper makes up for it. However, with the amount of water being put into the pot, the latter shouldn't be a problem.
After the final 10 minutes, remove the pot from the burner, place a lid on top, and set aside to let it cook from the generated heat. Wait about 15-20 minutes, still stirring to keep the remainder of the extreme heat at the bottom from burning the barley.
Serve and enjoy!
tomatoes 98¢
cabbage 20¢
onion 10¢
carrots 30¢
potatoes 99¢
beans 3.56$
barley 25¢
sausage 2.50$
The grand total for this meal (using the original recipe that calls for more veggies/beans/etc.) provided two nights of dinner with two servings a person, per night, with 3-32oz. containers for the freezer is
$8.88
.